Getting to know the God of the Bible is a lifelong pursuit. The Knowing My God Bible Study Journal helps you record your insights into the character and attributes of God as you read through the Bible.
Understanding God's character helps us understand who He is and what He's all about.
After all, walking with Jesus is about more than just following rules (or rather, it should be). It's about following God. Learning more about Him and getting to know Him helps us walk with Him.
Each section has an attribute of God (such as, "God is love"), the meaning of the attribute, a related Bible Verse, and 3 pages in dot grid format to write out other verses and insights about that attribute or characteristic of God.
Why Dot Grid?
I originally created this with lined paper, but I had many requests for a dot grid version. Dot grid allows you to be more flexible in writing notes and maybe doodling on the page as some of us are prone to do.
There is also a lined page version of this book available.
Bible Versions?

This Bible Study Journal can be used with any Bible version. The quotes in this book are from the New Living Translation, unless otherwise noted.
Bible Gateway says this about the New Living Translation,
The goal of any Bible translation is to convey the meaning of the ancient Hebrew and Greek texts as accurately as possible to the modern reader. The New Living Translation is based on the most recent scholarship in the theory of translation. The challenge for the translators was to create a text that would make the same impact in the life of modern readers that the original text had for the original readers. In the New Living Translation, this is accomplished by translating entire thoughts (rather than just words) into natural, everyday English. The end result is a translation that is easy to read and understand and that accurately communicates the meaning of the original text.

Cite: Bible Gateway
The Story Behind the Knowing My God Bible Study Journal
Several years ago, when my daughters were teenagers, they had a Sunday school teacher who implemented the project I based this guided Bible Study journal on. The basic idea behind the project was noting the characteristics of God during their personal Bible reading. To start them off, the teacher gave the girls a list of God's characteristics.
Eventually, I joined in as well. This was a helpful and encouraging study in my own life, answering important questions.
Who is my God?
What do these different parts of His character mean to me?
How should this affect my life?
As I went through this, I wrote not only the Bible verses that explained these characteristics. I also wrote thoughts on applying it to my life.
A few years after this project, I created a prettier version of this project (no longer in a plain, spiral-bound notebook), and had it for download on my old blog.
The response was pretty overwhelming. Clearly, this resonated with more than me and my family.
Knowing My God Bible Study Journal – What's inside?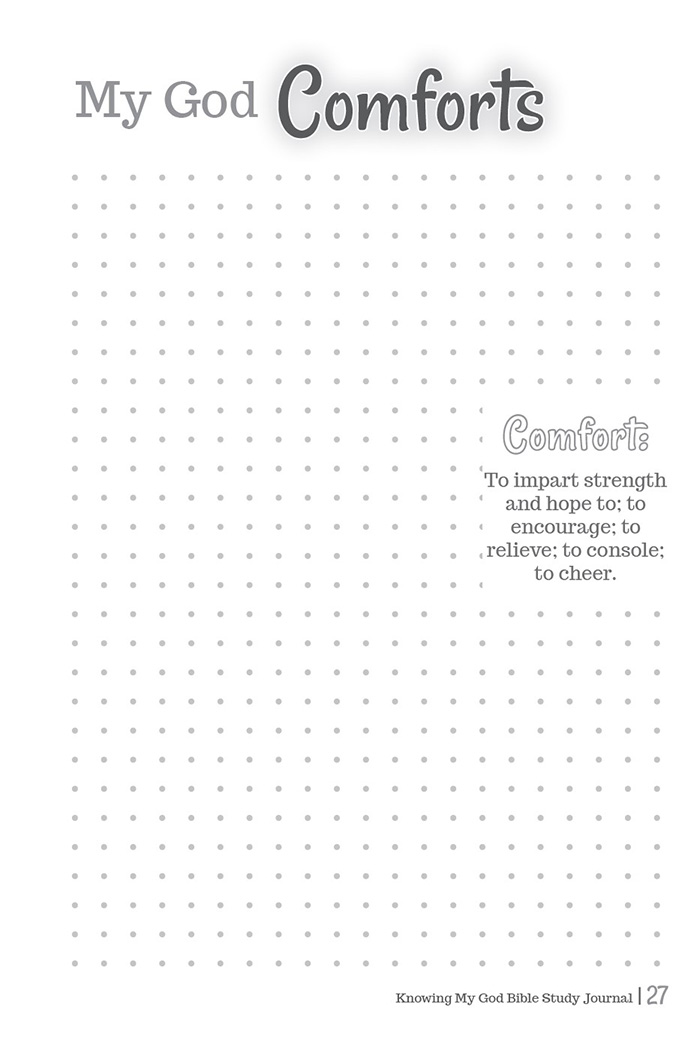 The Knowing my God Bible study journal helps you record notes, verses, quotes, and thoughts on each of the 69 listed character traits and attributes of God in this book. The Knowing My God study journal is divided up by attribute, with 4 pages per attribute, which include a Bible verse page, a page with the attribute of God and a definition (plus lines to record notes), and two additional dot grid pages.
Other Formats for the Knowing My God Bible Study Journal
The Knowing My God Bible Study Journal is available in four formats, depending on your preference.
The dot grid editions have dot grid sections in place of lines to allow you more freedom when writing notes. The lined versions have lined pages and sections for more traditional note taking.
Both lined and dot grid formats are available as paperbacks or hardback editions.